Lake Neccudah's proximity to Denver allowed access to major metropolitan markets via the Lake Neccudah Rail Road Company.  Beef, wheat, and a variety of fruits and vegetables became the dominant contributors to the local economy.  As these businesses grew so did the demand for reliable passenger transportation.  In 1897 the new modern railroad station was built to replace the outdated original freight and passenger terminal.
In 1899 the Pioneer Packing Company was opened by Kirk Jackson to serve the cattle ranchers of the area.  Until then ranchers had to drive their herds to the slaughter houses in Denver which added a significant cost to their operations and shipping live cattle to market was still too costly. With the advent of refrigerated box cars processed beef from Pioneer Packing could now be shipped directly from the local slaughter house to markets as far as California on the West Coast to New York on the East Coast.
At about the same time the Golden Valley Canning Company was formed by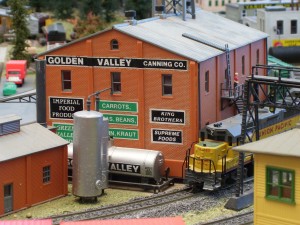 Samuel Dunwell to assist local truck farms with the distribution of their produce.  Most of the crops were produced by sharecroppers on rented land from Dunwell or on small family farms.  The fact that Dunwell owned much of the local farmland, owned the cannery, and owned a piece of the railroad meant that he controlled much of the pricing for produce.  This made Samuel Dunwell a very rich, very influential man about town.
In 1904, attracted by the rich soil and very favorable growing conditions for beer-making crops, a German immigrant brew master named Gunther Heinz put down his life savings of $18,000.00 and purchased the old Pillsbury Mill on Water Street.  Renaming the company Crown Beverage Company Heinz was brewing beer by the summer of 1905.  Rather than bear the costs usually associated with a start up business, advertising, marketing, etc., Gunther managed to sign contract brewing agreements with the likes of Coors, Miller, and Olympia.  His business savvy turned the company into one of the most profitable brewers west of the Mississippi.
By the entrance of America into the First World War the little town of Lake Neccudah was blossoming.  Samuel Dunwell had married a Denver woman back in 1881 and had two sons by her; Edward , a ne'er do well, and Charles, a son destined to follow in his father's business footsteps.  At age 27 Charles Dunwell had joined his father's very successful cannery.  Edward, then 33, was off at some university or another, spending Samuel's money, changing degree majors like others change their underwear.
All around the region the farms were flourishing, the cattle business was booming and jobs were plentiful.  The growth at the brewery had attracted many skilled artisans from Eastern Europe.  Ancillary businesses to the railroad, farms and the slaughter house were springing up everywhere.